---
Easy operation
Installation of a touch screen and GUI (Graphical User Interface) provides improved operability. In addition, processing and equipment status are displayed on-screen and each operation can be performed just by touching the icons.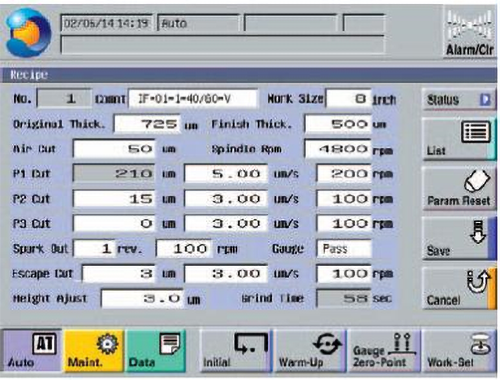 Special options for a variety of needs
Height gauge
One or two-probe height gauge (option)
In-feed grinding
Workpieces up to Φ300 mm (option)
Frame grinding
 8" frame grinding (option)
Creep-feed grinding
Workpieces up to Φ200 mm (user-specified spec.)
High-precision applications
Processes silicon and compound semiconductors for analysis.
Grinds resin for CSP and WL-CSP
Improves the planarity of lithium tantalate and lithium niobate
Processes green ceramics and sapphire
---
Specifications
*Product appearance, features, specifications, and other details may change due to technical modifications.
*Please read the standard specification sheet thoroughly before use.